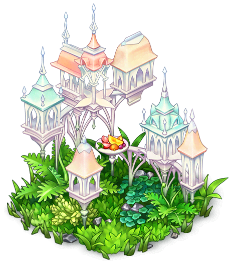 To start constructing the Palace, first complete Dr. Yorick Jansson's series of tasks which become available after reaching Player Level 25 and Entomologist Level 7.
The construction of the Butterfly Palace requires several unique items that you haven't encountered before. The names of such items are blue in the table below. Click on these items' names to learn how to obtain them.
Some construction stages require you to not only collect the necessary resources but also to complete a quest. In such cases, you will see the quest's icon in the "Stage" column. Click on it to see the details.
Stage
Item 1
Item 2
Item 3

---

---

---

Stage 1

---

Stage 2

---

---

Stage 3

30
Plate

50

Fruit Salad

40

Plumeria Flowers

Stage 4

---

Stage 5

---

---

Stage 6

40
Patchouli

40
Oregano

40
Rosemary

Stage 7

---

---

---

---

Stage 9

---

---

Stage 10

---

---