Inviting a player who is your friend on the social network to be your neighbor is very simple.
Open the Friends tab in the bottom game panel and find the friend you'd like to send an invitation to become your neighbor in the corresponding list. The friends list is sorted in alphabetical order. You can quickly find the friend you're looking for by typing their name into the search bar above the Neighbors tab.
Hover your mouse over your friend's avatar and click on the "Invite" button to send them an invitation.

Your invited friend will move to the Neighbors tab, and their panel will remain gold colored until they accept your invitation.
To invite a player to be your neighbor if they are not your friend you will need their neighbor key.
Click on the +Neighbors button at the bottom game panel.

Open the Search for Neighbors tab, enter the neighbor key of the player in the bottom left corner of the window, and click the search button. The corresponding player's avatar will appear on the right. Click the "Invite" button to send them an invitation.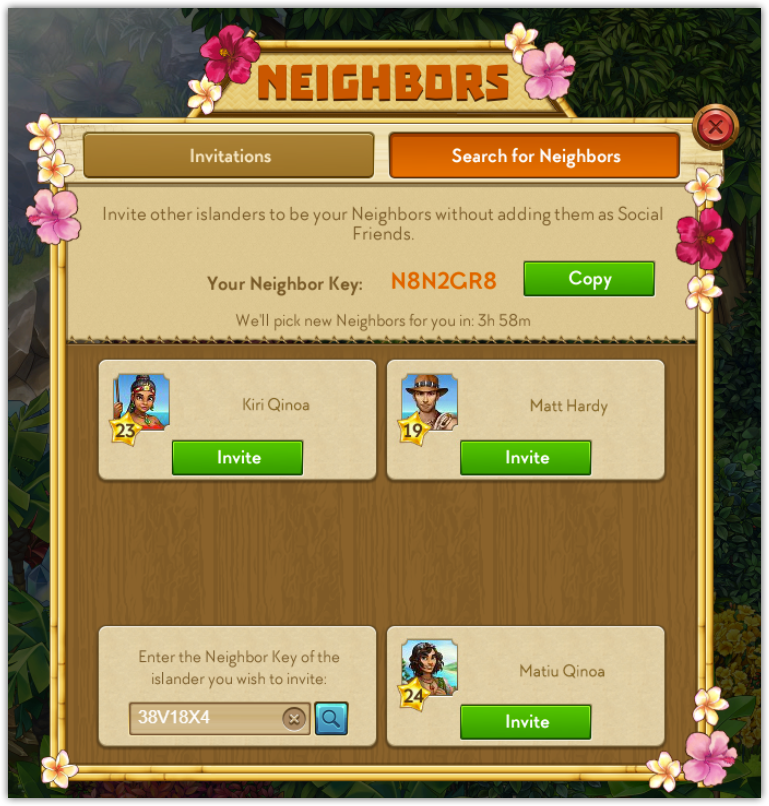 Your neighbor key is shown in the bottom part of the same window – you can send it to players who would like to invite you to be their neighbor.
In this same tab, you can send neighbor invitations to random islanders who are close to your level in the game.
You can be neighbors with up to 50 players. It is possible to increase your neighbor cap by raising your VIP-level.